Hemptack
1 cup + 2 tablespoons rice flour
2 tablespoons sorghum flour
2 tablespoons mochi flour
¼ teaspoon baking soda
½ teaspoon salt
½ cup shortening
5 tablespoons warm water
4 tablespoons vegetable oil
1 tablespoon honey
¼ cup toasted hemp seeds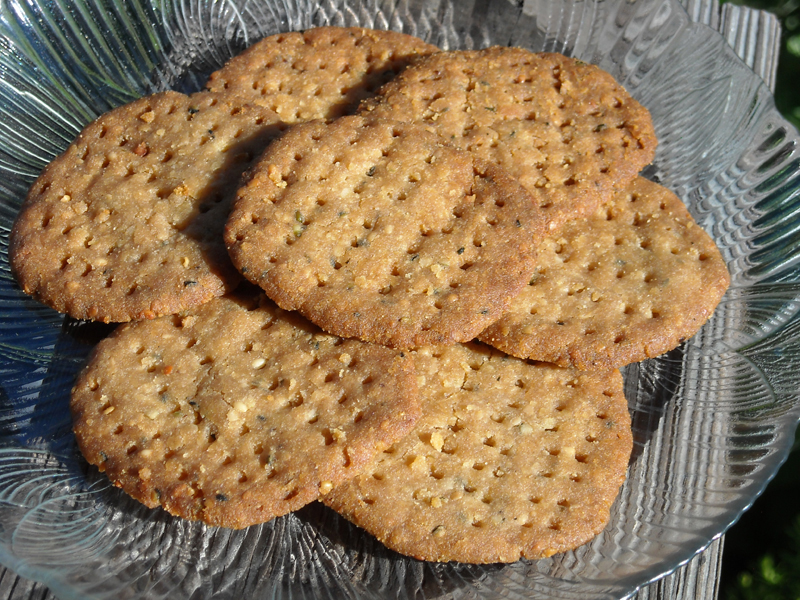 In a large mixing bowl, whisk together all the dry ingredients except the hemp seeds. Cut in the shortening with a pastry blender. Add the warm water and oil a few tablespoons at a time, mixing the dough with a large fork after each addition. Add the honey; mix well. Begin adding the toasted hemp seeds. Knead them into the dough with your hands. Continue kneading the dough until it readily forms a ball. Refrigerate the dough for 2 hours.
Heat oven to 375°F. Take pinches of dough large enough to form balls about 1-inch in diameter. Flatten into discs by hand. Press them to 1/8-inch thickness on parchment-lined baking sheets. Prick the entire surface of each one with a fork. Bake for 9-10 minutes. Let the finished crackers rest on the baking sheets for 5 minutes before removing them to a wire rack to cool completely. Yields 2 ½ dozen 2-inch diameter rounds.
Toasted Hemp Seeds:
Heat oven to 300°F. Spread ¼ cup hulled hemp seeds on a foil-lined baking sheet and place in the oven. Drop the temperature to 275°F and bake until toasted to a light golden brown. After the first 10 minutes, check the seeds for doneness every 5 minutes and give an occasional shake or stir to avoid uneven browning.
Copyright © 2017 selfsploitationpress